Wine & Watercolour Painting Night at LEAF West Kirby
18 February @ 6:30 pm

-

9:00 pm
Join us for Wine & Water Colour painting @ Leaf West Kirby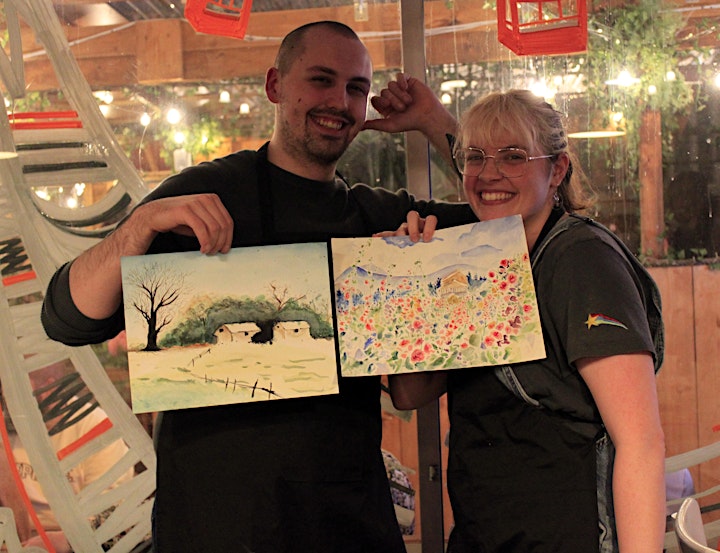 We're Floating Art a local indie company who hold regular varied art workshops in the North West! Join us at Leaf West Kirby and learn some water colour painting techniques. There'll be plenty of wine on offer to help you settle in! All of the required materials are included within your ticket price but you will need to purchase your own wine! We encourage you to make purchases on the day to support out venues!
Whether you're a passionate painter looking to learn new skills or just someone searching for fun group activities to try with friends, you'll love this entertaining art class. Most of our students have either not painted for a long time or even consider themselves to have never painted before!
Using Sakura KOI Japanese Artists Watercolour, we'll teach you the basics of watercolour painting as well how to use an ink pen for your sketching.
This workshop has no set topic although given the date of the workshop, you might want to have some romance or flowers in mind! We will bring along a selection of references of varied styles for you to draw inspiration from, these will include landscape, Flowers and Animals. You are also welcome to bring along your own references. The workshop will begin with a brief demonstration from our experienced teacher and local practicing artist, she'll show you how to get started with your pen and then teach you a variety of watercolour techniques. Once you get started the teacher will be at hand to help you throughout the rest of the workshop.
It doesn't matter if you've never picked up a brush before, this art class is a great introduction to watercolours . It is also suitable for those that are already familiar with watercolour painting who want to learn something new or improve on their skills.
At the end of your art class, you'll get the chance to stand back and admire your result or sharing your experiences with the group. You'll head home with your completed piece and a new skill that's perfect to practice whenever you're looking to clear your head.
This workshop is located in at Leaf, West Kirby a lovely Restaurant/bar, they offer a wide selection of both alcoholic drinks and alcohol free drinks! If you join us, we encourage you to make at least one purchase to support the venue!
*Towards the end of the workshop there will be an opportunity for you to get your photo taken. We will use these photos for social media and promotional use. Please let us know if you're not comfortable with this.
Knowledge required
• Beginner friendly – all levels welcome.
Materials (all provided)
• Pen, Sakura KOI Japanese Artists Watercolour and watercolour paper.
What you'll get:
• All of the equipment and materials needed for your class.
• Protective equipment such as aprons.
What to bring
• Comfortable clothes that you don't mind getting a little paint on.
• A carrying bag for take your artworks home.
Follow us on Instagram and Facebook for more details @artfloat
www.floatingart.co.uk