Birkenhead International Film Festival #4: World Building
21 October @ 6:30 pm

-

11:00 pm
Convenience Gallery presents the Birkenhead International Film Festival 2023.
Join us on Saturday 21st October for the 4th installment of the Birkenhead International Film Festival. This year we are exploring the theme 'world buildbuilding', with short films submitted from across the globe.
The festival is currently in the screening process so film listing for the event will be announced in late September.
What to expect from this years festival:
1. High quality short films from across the globe.
2. Live entertainment
3. Introductory Panel Talk
4. A bar, with cinema snacks available.
Tickets are free however there is an early bird 'BIFF Supporter' ticket, these are tiered with different rewards which help us to fundraise for the festival early on. As a not for profit organisation we run largely off of donations, grants and funding, and in previous years the BIFF has been run entirely voluntarily. Please consider this option when securing your tickets.
More about the Birkenhead International Film Festival and previous events:
Our festival in 2022 was a sell out!Showcase 8 films, live performance from the Del Roswells, and a live AI generative films from Scenegraph Studios for over 80 people in a full house at Pilgrim Street Arts Centre.
This festival built on previously successful festival in 2020 online as we explored Horror, and 2021 exploring Animation atthe Bloom Building. As well as an additional 30 seconds shortsonline festival in 2021.
There is a massive appetite for independent film on Wirral andthe BIFF brings it each year with submissions landing fromacross the globe. 92 filmmakers have showcased work so farand we want to help ensure their is a platform and communityhere on Wirral and in Birkenhead for filmmakers to see afuture in the industry and connect the local community with incredible screen culture..
About this years theme:
World-Building is often described as the process of constructing a world, and often imaginary ones. World-building we feel is a staple tennent of the filmindustry, as writers and makers create experiences in film that transport us asviewers into new worlds and universes of their making. We want to celebratethis as part of the festival this year.
We want filmmakers to let us into theirworld. We will champion and celebrate these worlds that have been createdthrough film.
For film submissions we want the term world-building to encompass all genresand is of course free to interpretation of the phrase but to give you an examplewe have explored some of the following themes, narratives and topics withinour definition that we are hoping to discover in the submissions process.
We would look for films that may explore: Visions of the past, present or future.Films that explore new worlds, visionary landscapes, dystopian and utopianportrayals of life.Films could be person centredFilms could explore class, discrimination, exclusion, global majority, lgbtq+,gender, disability, and underrepresented groups.Can explore history, shared memory, folklore and collective past. Films can explore realist, surreal and abstract films.
We are looking for existing works that explore the theme to showcase at ourannual festival which will be shown in a heritage location in Birkenhead. We encourage submissions from all genres, and have a run time of up to a maximum of 30 minutes in length.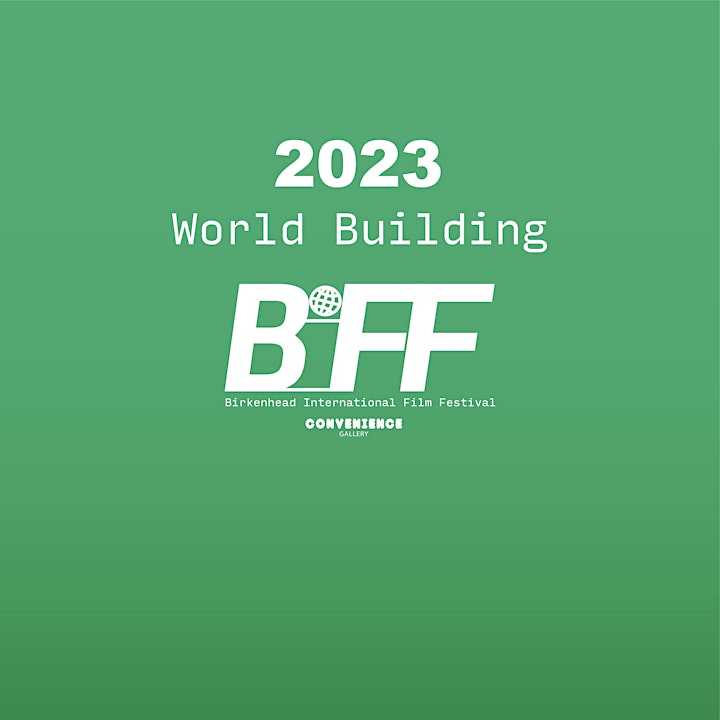 What is Convenience Gallery?
Convenience is a not for profit, creative arts platform based in Birkenhead, UK.
Ourprogrammes aim to make arts & creativity a part of everyday life. Our work is shaped by and forthe community here in Birkenhead alongside the national artistic and creative community.We use our platform to promote and advocate for creative people nationally, and to inspirepeople. We run free and affordable events, exhibitions, installations, workshops, labs, creativecourses, and artistic support.
We believe anywhere can be a space for culture and run ourprogramming across multiple venues and spaces in the area.
Our role in supporting the BIFF is to work with independent festival producers and curatorsBen Loveland and David Harrison to help continue to bring independent and international filmand filmmakers to new audiences in Birkenhead. Whilst also providing a platform to filmmakersacross the globe to showcase work.
For the fourth year of BIFF we are also looking to implement a space for one of the film blocksto be focussed on Northern UK based filmmakers. There is a significantly lower percentage ofopportunities for northern filmmakers in the UK and we want to ensure the festival provides anopportunity for makers living and working in the north of the UK. Whilst still championing andcelebrating films from across the world.
Partnerships:
Venue Partner: The Williamson Art Gallery
Creative Partners: Northern Fortress Film & Scenegraph Studios.
Education Partners: Wirral MET, Arts Universtiy Bournemouth
If you are interested in working with us on the festival please contact: conveniencegallery@outlook.com